Cellular Laboratories® De-Aging Creme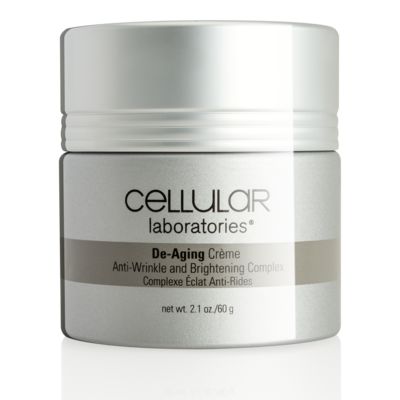 Cellular Laboratories De-Aging Crème has an exclusive, patent-pending formula of powerful skin brighteners and wrinkle-fighting complexes derived from all natural ingredients. The Cellular Laboratories De-Aging Crème is a ...
$123.98 AUD
$130.50 AUD
$2.37 AUD
Single Jar (60 g/ 2.1 oz.)
---
sku: 711190
FEATURED RECOMMENDATIONS
Details
---
Cellular Laboratories De-Aging Crème has an exclusive, patent-pending formula of powerful skin brighteners and wrinkle-fighting complexes derived from all natural ingredients. The Cellular Laboratories De-Aging Crème is a multifunctional (multi-dimensional) approach to intensive skin brightening and anti-ageing therapy. The cream contains technologically advanced and patented ingredients to address the appearance of facial lines, wrinkles, uneven complexion, skin tone and dryness.
Benefits
---
A luxurious cream created to address multiple skin conditions. Exclusive complex that effectively reduces the appearance of facial wrinkles accelerates rhythmic skin cell turnover and brightens skin tone for a more youthful complexion. A patent pending formula and exclusive complex clinically proven to address and treat: Facial wrinkles by re-filling the voids created by skin lines Skin's tensile strength, turgidity, luminosity by enhancing the skin?s synthesis of dermal proteins UV-induced skin degradation by eliminating free radical, non-radical and iron-induced oxidative damage to the skin Localised hyperpigmentation, dark spots and freckles through combinations of skin brighteners Intensive skin hydration through skin lipid mimetic emollients derived from natural plants and carefully chosen glycerides Bio-regulating skin exfoliation with addition of mild exfoliating agents added to the formula Minimises the appearance of line and wrinkles
Ingredients
---
Scientifically blended complex of targeted oligopeptides Designed to support the structure of the extracellular matrix. Emblica (phyllanthus emblica fruit extract) A plant grown only in India used since ancient times in revitalising the body. Clinical researchers have demonstrated multiplicity of benefits to the skin. Glycyrrhiza glabra (licorice) root extract The most effective form of Arbutin are added skin brighteners. Lumiskin A breakthrough material designed to enhance skin's glow and luminosity. Liquid crystal fluidity modifiers, in conjunction with Hyaluronic Acid Intensely hydrates and maintains moisture loss in the skin. Sodium levulinate A completely natural preservative.
FAQ
---
Will De-aging Crème help fade my dark spots?
Yes, De-aging Crème contains two key ingredients that promote a lighter, brighter complexion. Belides (bellis perennis daisy flower extract) is a natural, skin-brightening ingredient that effectively blocks melanin production to reduce hyperpigmentation and age spots. De-aging Crème also uses glycyrrhiza glabra (licorice) root extract which naturally brightens the skin. With consistent use, De-aging Crème will soften the appearance of age spots and increase your skin's luminosity.

Can I use De-aging with my other skincare?
De-aging Crème is safe to use with most types of skincare, but you'll experience the most effective results when used in conjunction with Cellular Laboratories Re-Birth Serum.

How to Use Cellular Laboratories De-Aging Crème?
Apply at night, after cleansing and toning face, neck and décolleté. Massage well into the skin.
Reviews
---
Displaying reviews 1 - 5 of 77
---
I love this product and definitely see the difference if I have missed it a few days. It now is a consistent part of my night regimen, and ppl always think I am significantly younger than I am, since I am almost 70! I'll take those compliments anytime!!!
---
Love this...10+ years of use
I've used cellular laboratories for over 10 years and absolutely love the product. Most people think I'm much younger than I am and I attribute some of that to having a young looking face 👍🏻
---
DE-aging, emphasis on the DE
I have been using this cream consistently for two years, replacing my La Mer Creme de la Mer. Not only have I seen a difference in my skin but also a difference in my pocketbook. I didn't think that a lesser priced moisturizer could have the same benefits. I am glad I was wrong!
---
I have tried so many crèmes for night time use and all failed until I tried cellular laboratories de-aging crème. My skin is moisturized, soft and this is the only crème that actually works on diminishing fine lines and wrinkles plus provides an overall youthful appearance. I will never stop ordering.
---
I was using the day creme for the longest time for both day and night use until I found out about this product... Now I'm obsessed!!! My skin is noticeably clearer and softer. This line is great for all ages! My grandma, mom, and I all use this product (and I'm 24!)