Motives® 3-in-1 Contour, Bronze and Highlight Kit
$45.00 AUD
AutoShip price:
$42.75 AUD
$0.82 AUD Cashback
Includes 3 Powders to Contour, Bronze and Highlight. and 1 Tutorial
|
sku: 7101MSD
This product qualifies for free or flat-rate cost shipping. Learn More
Details
---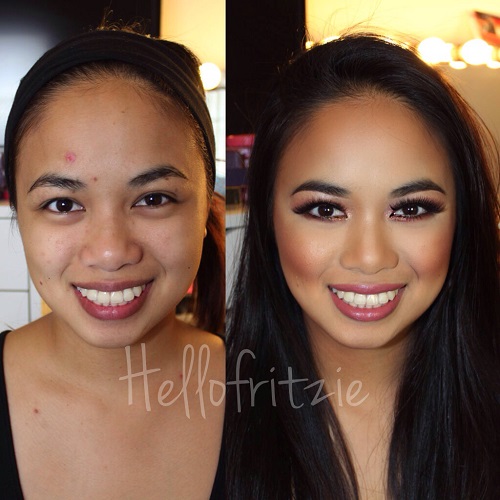 This three-in-one compact contains everything you need to highlight, contour and bronze like a professional. Use the deepest colour to contour areas you would like to recede, such as the hollows of the cheeks and under the jaw. Next, apply the bronze powder for a sunkissed glow. Finally, to accentuate features you would like to emphasize, use the lightest shade to highlight. With the included easy-to-follow instructional guide, this compact is great for beginners and professionals alike!
Benefits
---
Three-in-one compact with powders to highlight, contour and bronze
Luxurious formula that glides on smoothly to accentuate and sculpt facial features
Includes easy-to-follow instructional guide on where to apply the powders
Designed for all skin types
FAQ
---
How do I use Motives 3-in-1 Contour, Bronze and Highlight Kit?
Following the provided instructional guide, use the Motives Cheek Contour Brush and pick up the darkest powder on the angled side of the brush. Use a sweeping motion to shade underneath your cheekbone, along the hairline and under the jaw, making sure to blend evenly. Now, pick up the lightest shade on the angled side of the brush and shade the bridge of the cheekbone, above the eyebrow, and the center of the forehead, using the instructional sticker as a guide. Next, using the Motives Powder Brush, lightly dust the apples of the cheeks with the bronzing powder for a sunkissed look.
Can I use Motives 3-in-1 Contour, Bronze and Highlight Kit with Motives Pressed Blush?
Of course! Contour, highlight and bronze with Motives 3-in-1 Contour, Bronze and Highlight Kit before you apply Motives Pressed Blush. Using Motives Powder Brush, sweep the blush along your cheekbone and out to your temple. Now you have a perfectly contoured face with a pop of colour!
Why is contouring important?
Contouring your face gives the illusion of a more perfect appearance. By contouring your face, you can hide structural imperfections, give your face balance and highlight features.
What areas are common for contouring?
The most common areas to contour are cheeks, nose, forehead and jawline. Contouring these areas gives the appearance of a balanced face. You can also contour eyes and lips to make them look bigger or smaller, fuller or slimmer.
If I have sensitive skin, can I use this product?
Yes, Motives 3-in-1 Contour, Bronze and Highlight Kit is formulated so that it works great with all skin types.
Reviews
---
Displaying reviews 1 - 5 of 6
Its perfect for those who don't like to look fake. I never had any breakouts from this pallet and this brand in general. I've been using this for a long time and then decided to try some other brands. Still can't find anything that wont give me breakouts. So I'm coming back to this one.
I love that this product takes ten pounds off and I don't need to sweat in the gym for it.
I love how it's so compact and that it has instructions for aspiring professionals like myself. The consistency of the powder is very light and buildable for those days when you want a more defined and sculpted face. I bring it everywhere with me! It's one of the few products that I actually hit pan on. And that never happens.
Really lights up my face!
This kit lets me enhance any look - to always put my best face forward!
Wonderful color and tones
Great product...glad to have found it.