Motives® Essential Brow Kit
$42.00 AUD
AutoShip price:
$39.90 AUD
$0.76 AUD Cashback
Includes 1 Wax and 2 Powders
|
sku: 7100MBK
This product qualifies for free or flat-rate cost shipping. Learn More
Details
---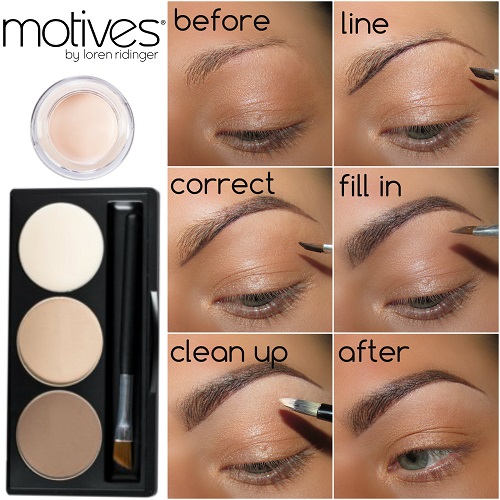 A complete kit for expertly shaping, grooming, and defining your brows. The all-inclusive kit contains wax to sculpt the brows and two powder shades to create a natural look.
Benefits
---
Astonishing powder/wax brow combination that is effortless to apply and provides striking gleam
Apply the smooth powder for striking color and the wax for brow-sculpting control with enhanced shine
Enjoy glamorous, shaped and sexy brows all day long
Reviews
---
Displaying reviews 1 - 5 of 172
I LOVE this product! Considering I'm not a makeup artist I find this kit very easy to use and even if I've not threaded my eyebrows in a long time, the powders in this kit give me a beautiful and natural tone, the applicator is perfect size and shape, and the wax a great consistency!
Motives Essential Brow Kit
This is an amazing product, it's always a popular product during my Motives Events. I always look out for someone with an imperfect eyebrow & I do only one eyebrow, they are always amazed at the difference & professional looking eyebrow they get after using this product. It is always a best seller during events. And a "must have" for many women, I use it too & love how natural it looks & feels. I receive lots of compliments.
Natural Colors & Easy to Apply
So convenient to have the wax and the 2 shades of brown in the same kit for easy application with the brush provided. Colors are natural and it is super handy.
Best Eyebrow Kit out there
This is definitely the best eyebrow kit out there. I've been using this for 5 years now. The colors are great and you can customize it by mixing it up. The wax helps the brow powder to stay for the entire day. I can't live without this kit.
This is it! It's so easy to use and it will look so natural.