Motives® Lash Primer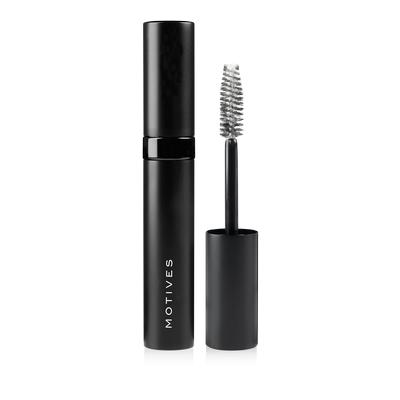 A conditioning base that makes every lash stronger and longer. The moisturising formula helps to mend dry lashes for full extended wear.
$22.33 AUD
$23.50 AUD
$0.43 AUD (1.82%)
Color:

Single Tube (7 g)
---
sku: 7100LP
FEATURED RECOMMENDATIONS
Details
---
A conditioning base that makes every lash stronger and longer. The moisturising formula helps to mend dry lashes for full extended wear.
Benefits
---
Conditioning formula giving the appearance of volumious and lengthy lashes
Goes on creamy and smooth
Adds texture to lashes so they appear thicker and fuller
Strengthens lashes
Flake-free formula
FAQ
---
Is the Motives Lash Primer sticky or gooey?
Motives Lash Primer is not sticky or gooey. It applies to your lashes like any Motives mascara would.

Is Motives Lash Primer hard to remove?
No. Motives Lash Primer will come off when removed with a makeup remover. Try using Motives Waterproof Eye Makeup Remover or Motives Gentle Eye Makeup Remover for easy removal.
How does the Motives Lash Primer provide fuller/thicker lashes?
When the Motives Lash Primer is applied to your lashes, it sweeps across your entire lash, covering the ends and binding to them. This allows your mascara to grip to your primed lashes, leaving them looking longer and flake free!

Does Motives Lash Primer apply in a colour?
Yes. The Motives Lash Primer applies white but dries clear so that your mascara can grab all of the attention!
Does Motives Lash Primer have a bad smell?
No, Motives Lash Primer does not have a bad smell.
Is Motives Lash Primer tested on animals?
No, this product has not been animal tested.
Ingredients
---
Glycine Soja (Soybean)
Soy protein helps enhance the appearance and feel of hair by increasing its suppleness and sheen, and by improving the texture of hair that has been damaged physically or by chemical treatment.
Panthenol
Panthenol is a precursor to vitamin B5. It binds to and penetrates the hair shaft to moisturise and smooth the hair. By providing moisture to the hair, panthenol helps to strengthen hair, and help make it appear fuller and thicker.
Reviews
---
Displaying reviews 1 - 5 of 16
---
Great for my thinning lashes
I'm 65 and have thinning lashes so this product helps build them up and prepare for mascara
Response from Customer Service:
Dear Valued Customer,

Thank you for taking the time to leave your thoughts on the Motives Lash Primer! We are happy to hear you are pleased with the product.

Thank you again!
The Product Information Team
---
Can't live without my Lash Primer
Lash primer has become my must-have product in my daily makeup routine. I love how it makes my lashes look fuller with any mascara I use but what I love the most is that it somehow makes the mascara stay on my lashes and not smudge! No more raccoon eyes for me!
---
The best lash primer EVER!!!!
---
This is a protection of our real lashes before applying mascara. Recommended for all ladies.
---
No need for false lashes!
I have natural short and thin lashes, discovering this primer plus using our motives fiber lush makes my eye lashes fuller and glamorous! wonderful product! I have save the money getting lashes done by only using these two products.