Motives® Luxe Precision Eye Line
$20.75 AUD
AutoShip price:
$19.71 AUD
$0.38 AUD Cashback
Color:

Jet Black
|
sku: 723ELP
This product qualifies for free or flat-rate cost shipping. Learn More
Details
---
Pump up the drama with Motives Luxe Precision Eye Line. This easy-to-apply liquid eyeliner comes in two versatile colours that will accent your eyes and make them pop. The smooth, waterproof formula will keep your eyes looking freshly lined all day and into the night.

Create this look:
Apply Motives Eye Base to the entire lid
Using Motives Fantasy Palette take the peach shade and apply to the entire lid
Take Motives Mavens Element Palette and use Aubergine and shade into the crease
Take Motives Pressed Eye Shadow in Fantasy and apply from the middle of the lid out
Using Motives Pressed Eye Shadow in Midnight apply to the lower lash line
Using Luxe Precision Eyeliner in Jet Black line the top lash line in a cat eye sweeping motion
Finish your look with Motives Lustrafy Mascara in Blackout
*Some products shown may not be available.
Benefits
---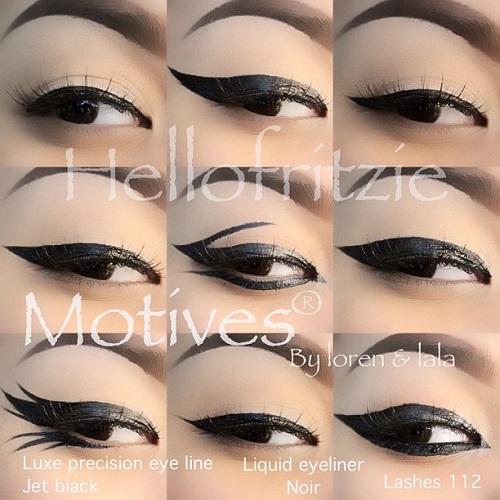 Waterproof, long-lasting formula
Velvet touch precision tip for accurate application
Will not scratch, tug, or slip
Available in neutral colours that will enhance your eyes' natural beauty
FAQ
---
How are liquid eyeliners different than pencil eyeliners?
Pencil eyeliners are applied by rubbing the pencil on your lash line. This tends to create a smudged effect. Liquid eyeliners are much more precise. Liquid eyeliners also tend last longer, as they do not easily rub off.

How do I apply a liquid eyeliner?
Take the corner of your eye and gently pull outward. Then, carefully use the felt tip to smooth across your lash line, starting with the inside corner and sweeping outward. For a subtle look, keep your line thin and as close to the lash line as possible. For a more dramatic look, use the side of the felt tip to create a thicker line.
Do the available colours work with every eye colour?
Motives Luxe Precision Eye Line comes in Jet Black and Chocolate Brown. Because they are two neutral colours, they will accent any eye colour.
What does "waterproof" really mean?
This liner is waterproof in the sense that it will not run or smudge while swimming or exercising. However, it does come off easily with a waterproof eye makeup remover, so if you mess up when you're applying it, don't worry! You can wipe it off and start again.
Can I use this product to create a smoky eye?
Yes. Though pencil eyeliners are generally better for creating a smokey eye due to the ability to smudge them, you can use a liquid liner as well. Immediately after application, take a brush like the Motives Angled Eyeliner Brush, wet it slightly, and drag across the eye line to soften the edges. This will create the illusion of a smudged pencil line without losing the stay power of liquid eyeliner.
Ingredients
---
Hyaluronic Acid
In addition to its functional use for making our liquid eyeliners easy to apply, hyaluronic acid also helps keep your skin hydrated and supple.

Demethicone
This fluid silicone polymer is well known for its flow properties, so it enhances the smooth application of your liquid eyeliner.
Iron Oxide
Iron oxides are naturally-occurring mineral compounds that are used as pigments in various ways. These iron oxides offer deep, rich colours from orange, red, and yellow to black that accentuate your eyes.
Reviews
---
Displaying reviews 1 - 5 of 97
For years I've never been able to eye-line my eye without looking like I got punched. It was a total girl makeup fail.....but this wonderful eyeliner I CAN!! I finally can enjoy a sexy smoky eye!!! It goes on so smooth and easy!!!
Soy una persona que sufre de parpado graso y aunque uso base de ojos al paso de las horas veo como mi delineador se marca en la parte alta de mi parpado. Con este delineador no tengo ningun problema ya que es de secado rapido ademas de una precision increible con una intensidad de color impresionante.
Best thing ever for liner
I'm all about FAST and precision when doing make up...this is fast and so on "point". literally...the way it goes on is like drawing it on with a super sharpie and dark... perfect everytime...in seconds!
Super easy to use! And doesn't smudge even taking dance class for hours!!
Easy to use Precision Eye Liner
This eye-liner is easy to use and helps to make your eyes look great!