Motives® Luxe Precision Eye Line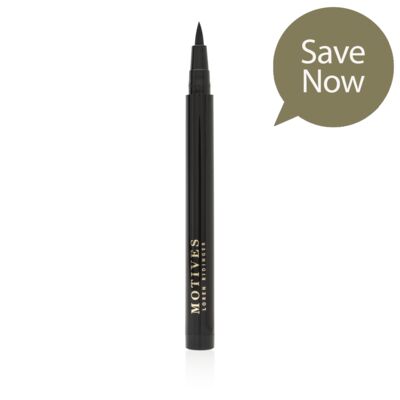 Elevate your eyes with this richly pigmented and water-resistant eyeliner. From classic lines to cat eyes this liner offers the versatility to create classy or dramatic looks. The ...
FEATURED RECOMMENDATIONS
Details
---
Elevate your eyes with this richly pigmented and water-resistant eyeliner. From classic lines to cat eyes this liner offers the versatility to create classy or dramatic looks. The superfine tip glides expertly formulated liquid liner onto your lids for long-lasting precision from morning to night.
Benefits
---
Water-resistant, long-lasting formula
Superfine velvet touch tip for accurate application
Will not scratch, tug, or slip
Available in neutral colours that will enhance your eyes' natural beauty
FAQ
---
How are liquid eye liners different than pencil eyeliners?
Pencil eyeliners are applied by rubbing the pencil on your lash line. This tends to create a smudged effect. Liquid eyeliners are much more precise. Liquid eyeliners also tend to last longer, as they do not easily rub off.
How do I apply a liquid eye liner?
Take the corner of your eye and gently pull outward. Then, carefully use the felt tip to smooth across your lash line starting with the inside corner and sweeping outward. For a subtle look, keep your line thin and as close to the lash line as possible. For a more dramatic look, use the side of the felt tip to create a thicker line.
Do the available colours work with every eye colour?
Motives Luxe Precision Eye Line comes in Carbon and Espresso. These neutral colours will accent any eye colour.
Can I use this product to create a smoky eye?
Yes. Though pencil eye liners are generally better for creating a smoky eye due to the ability to smudge them, you can use a liquid liner as well. Immediately after application, take a brush and wet it slightly, and drag across the eye line to soften the edges. This will create the illusion of a smudged pencil line without losing the stay power of liquid eyeliner.
Ingredients
---
Water (Aqua), Styrene/Acrylates/Ammonium Methacrylate Copolymer, Benzyl Alcohol, Butylene Glycol, Phenoxyethanol, Potassium Sorbate, Sodium Laureth-12 Sulfate, Caprylyl Glycol, Sodium Dehydroacetate, C11-15 Pareth-7, Tetrasodium EDTA, Dehydroacetic Acid, Citric Acid, Glycerin (in Espresso), Laureth-21 (in Carbon), PEG-40 Hydrogenated Castor Oil (in Carbon). May Contain: Black 2 (CI 77266 [Nano]), Red 40 (CI 16035), Green 5 (CI 61570)
Reviews
---
Displaying reviews 1 - 5 of 5
---
This eye liner is so easy to use. I'm just a beginner in make up, this really make my life easy. Was using Mineral Gel Eye liner and liquid eye liner. This one is so much easier to use. I usually use 15-20 minutes to draw my eye liner, this only take me less than 5 minutes. Love this. Highly recommend to everyone.
---
If you are not a pro with liquid liner, fear not. This shorter & more sturdy tip is best for unsteady hands in nailing that perfect winged eyeliner look.
---
Glides on smooth and lasts all day. Very easy to use.
---
very easy to apply on my eyeliner , stay so good
---
Product Not As Good As It Formerly Was
A while back we ordered the Chocolate Brown version of this product which has been excellent in the past, but once we took shipment on two of these eyeliners from a certain lot#, they were both bad in that the eyeliners could not be applied cleanly because they were dried out. Since ordering this new version of the product, (Espresso it is now called), we are finding that they are STILL DRIED OUT! So the product has regressed in that Motives no longer supplies the color we want and the quality of the product is VERY poor. Will NEVER order this product again!
Response from Customer Service:
27/6/2019
Hello,

We received your product review of Motives® Luxe Precision Eye Line and wanted to reach out to you directly. We apologize that you felt this product was dry and would like to resolve this concern for you. The new Luxe Precision Eye Line in Espresso is a new formulation and new package which was just launched and features a super fine felt tip applicator. This type of applicator helps apply your liner with superior precision, however, felt tip liners do have trouble applying on top of makeup that is not set which may cause you to believe the product is dry. We have done extensive testing on this product and the felt tip needs to come in contact with a dry surface to apply the liner. If it comes in contact with a wet surface the liner will not apply. We recommend that you give time for your eyeshadow/eye base time to dry or even setting your eyelid with a translucent powder before applying liner. We apologize again for the inconvenience, but can assure you that this product is new and will apply correctly if used on a set surface. Please let us know if there is any way we can assist you further!

Thank you again for taking the time to send us your feedback!