Motives® Mineral Lip Shine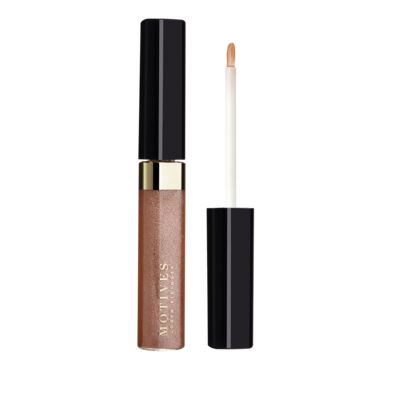 Mineral Lip Shine is a sheer, high-shine gloss that can be worn alone or layered over lip colour to add a touch of lustre to lips. This intense ...
FEATURED RECOMMENDATIONS
Details
---
Mineral Lip Shine is a sheer, high-shine gloss that can be worn alone or layered over lip colour to add a touch of lustre to lips. This intense lip shine helps to condition and moisturise your lips. With dynamic shades ranging from bright to deep in creamy and sparkly textures, the runway- ready possibilities are endless.
Benefits
---
Mineral base provides intense hydration, conditioning and ultra shine
Moisturised lip line
Brush applicator provides increased product application
Perfect for every skin tone
Paraben free
FAQ
---
Is Motives Mineral Lip Shine sticky?
No, Motives Mineral Lip Shine blends into your lips, leaving a thin layer of brilliant, colourful shine that isn't thick or sticky.
How should I wear Motives Mineral Lip Shine?
Motives Mineral Lip Shine looks great alone for subtle colour or when applied over a Motives Rich Formula Lipstick or Mineral lipstick for extra glam.
Can this lip shine be worn during any season?
Yes, Motives Mineral Lip Shine is a great product for any season. Layer it over Motives Mineral Lipstick for sheer colour or Motives Rich Formula Lipstick for full, rich colour.
Does Motives Mineral Lip Shine have a distinct smell or taste?
No. It is not heavily scented or flavoured, so Motives Mineral Lip Shine does not have a distinct smell or taste.
How do I apply Motives Mineral Lip Shine?
Motives Mineral Lip Shine comes with a convenient and effective lip brush applicator. Simply brush on product beginning in the middle of your lips and work outward with your lip brush to cover the entire lip.
Ingredients
---
Petrolatum
Petrolatum is widely used in personal care products as an emollient and occlusive skin conditioning agent. It acts to slow water loss from your skin and enhance the smooth, soft feel and appearance of your skin.
Beeswax (Cera alba)
Wax from honey bees provides a luxurious consistency that allows for a smooth and even application.
Tocopheryl Acetate (Vitamin E)
Vitamin E is a powerful natural antioxidant vitamin that helps to protect and nourish your skin. Vitamin E helps to moisturise your skin while also protecting it from environmental factors, giving your skin a healthy and more youthful appearance.
Reviews
---
Displaying reviews 1 - 5 of 5
---
i like the different colors. however, my fav is the wildflower. Sweet touch but elegant tint. Introduced it to a few ppl who love it now.
---
Beautiful Color and Very Nice Smell
I am extremely picky when it comes to any lip product as too many smell bad. I LOVE this product - I own 2 of them Scandal and Glam. They add color and shine. Every time I wear them I get complimented, and if my friends are with me they try to steal them. *laughing*
---
This product is fantastic. I never wear lipstick because it would leave my lips irritated and red. Since I have been using this lip shine I have had no problems.
---
Mineral glitter lips gloss
i love this mineral base lips gloss! I love the package and the shine without the stickiness like other lips gloss! This lips gloss look amazing on top of any lips colors or simple wear it alone .
---
Not crazy about it for the price
Response from Customer Service:
25/3/2019
Hello,

We received your feedback regarding the Motives® Mineral Lip Shine and wanted to reach out to you directly. We are sorry to hear that you are disappointed with the cost of this product. In our research our pricing is competitive in comparison to other comparable lip gloss brands and also has the added benefit of cashback that Shop.com offers. However, we do understand that products works differently for everyone and would love to recommend a product that is more to your liking. If you are looking for more pigment or a longer lasting formulation definitely check out our Motives® Metallic Paints. Please let us know if there is anything else we can assist you with.

Thank you again for taking the time to send us your honest feedback!