Pentaxyl®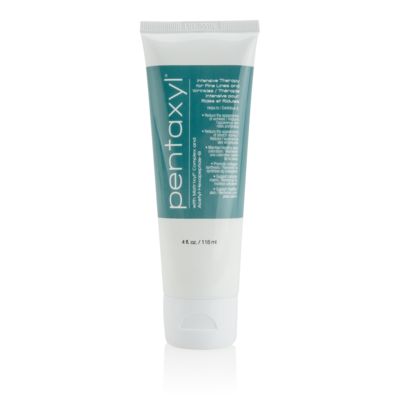 What Makes Pentaxyl™ Unique? Turn Back the Clock — with Pentaxyl™. The ageing process is a fact of life, and it has a way of showing on your ...
$99.51 AUD
$104.75 AUD
$1.90 AUD
Single Tube (118 mL / 4 fl. oz.)
---
sku: 711151
FEATURED RECOMMENDATIONS
Details
---
Turn Back the Clock — with Pentaxyl™. The ageing process is a fact of life, and it has a way of showing on your face. The vacations in the sun, the many laughs you've experienced, as well as life's frequent worries, all show up in those tiny fine lines on your face. The wrinkles, age spots and dark circles under your eyes can make you look 10-15 years older than you really are. The good news is there is a way to reduce the signs of ageing without irritation, piercing injections or daring surgical procedures. Market Australia is proud to introduce Pentaxyl. A powerful cosmeceutical that helps reduce the signs of ageing, Pentaxyl's advanced formula penetrates deep into the fine layers of skin and helps reduce the appearance of fine lines and wrinkles, while helping improve the skin's texture. It leaves you with a clean, vibrant and more youthful look. Pentaxyl's advanced formula uses a combination of clinically-proven ingredients to achieve a comprehensive approach to skin care. The formula uses the power of "bio-peptide technology." Peptides are the building blocks of proteins that make up all plants and animals on earth. Matrixyl® is a polypeptide whose original design and use was for wound-healing properties, including stretch mark reduction. Almost by accident, it was found to be effective in overall skin care. Its unique make-up effectively restores skin to a more youthful appearance. Acetyl-hexapeptide-3 is a cutting-edge peptide that has been tested and shown to significantly reduce the appearance of wrinkles caused by facial expression muscles, especially on the forehead and around the eyes. Palmitoyl Oligopeptide provides both skin firming and wrinkle smoothing properties. Regular use helps thicken and firm the skin, while wrinkles become less noticeable.
More Help from Nature
Other beneficial natural ingredients added to Pentaxyl's age-defying formula include: bearberry and licorice extracts, sesame oil, sweet almond oil, shea butter and mango butter, which are natural emollients that help improve skin hydration. In addition, vitamins A, E and C are included in the formulation.
Benefits
---
Works on both the epidermis and the dermis Contains three peptide formulas Matrixyl® is based on wound healing and helps to restore skin to a more youthful appearance Reduces the severity of wrinkles and furrows (especially in the brow, forehead and eye areas) Increases skin firmness and thickness Reduces skin discolourations and increases hydration Improves skin texture and colour Reduces the appearance of stretch marks
Ingredients
---
Ingredients found in Pentaxyl™: Deionized Water C12-15 Alkyl Benzoate Sesame Oil Caprylic/Capric Triglyceride Sweet Almond Oil Glyceryl Stearate (and) PEG-100 Stearate Cetearyl Olivate Sorbitan Olivate Palmitoyl-Pentapeptide-3 (and) Glycerin (and) Butylene Glycol (and) Carbomer (and) Polysorbate-20 Stearic Acid Phyllanthus Emblica Fruit Extract Siegesbeckia Orientalis Extract Glyceryl Polymethacrylate Propylene Glycol Palmitoyl Oligopeptide Glucosamine HCL Algae Extract Yeast Extract Urea Centella Asiatica (Hydrocotyl) Extract Echinacea Angustifolia (Coneflower) Extract Hydrolyzed Wheat Protein Hydrolyzed Wheat Starch Imperata Cylindrica Root Extract Arctostaphylos Uva Ursi (Bearberry) Extract Glycyrrhiza Glabra (Licorice) Root Extract Acetyl Hexapeptide-3 PPG-12/SMDI Copolymer Cocoa Butter Shea Butter Tocopheryl Acetate Mango Butter Peppermint Oil Methylparaben Xanthan Gum Propylparaben Triethanolamine DMDM Hydantoin (and) Idopropynyl Butylcarbamate Disodium EDTA Retinyl Palmitate Tetrahexyldecyl Ascorbate Acrylates/C10-30 Alkyl Acrylate Crosspolymer Polymethyl Methacrylate
Reviews
---
Displaying reviews 1 - 5 of 132
---
Amazing transmission, it is like done by Botox .
Definitely reduce the appearance of forehead wrinkles and scar after operation. It can also be used as a facial mask, pamper the skin at night. My customers all love this product.
---
Pentaxyl is still the one
I started using Pentaxyl about 10 years ago. Right away I noticed how smooth my face felt so I decided to try it on my rough heels. Wow! No more chapped heels, even in the dead of winter. Pentaxyl will always be part of my skin care regimen
---
El aroma y fragancia, agradable.Ingredientes activos, que producen resultado. The pleasent aroma and fragrance.
Active ingredients, that produce results.
---
Pentaxyl is one of the best products we have
Can't say enough good stuff about this product. It's nice on my skin and a little goes a loooong way. I see a difference in the lines on my face and the texture of my skin. It's a basic I don't go without.
---
As much as I love our skincare, Scott's go to is Pentaxyl..he is literally all about it and when he applies it on his face, his skin immediately pops-tighter, brighter, hydrating, eliminating fine lines!! All of that. I love it on my arms and legs under my Lumiere body and hand creme. Over indulgent perhaps, but like the commercial says, We're worth it:):):)