Skintelligence Daily Moisture Enhancer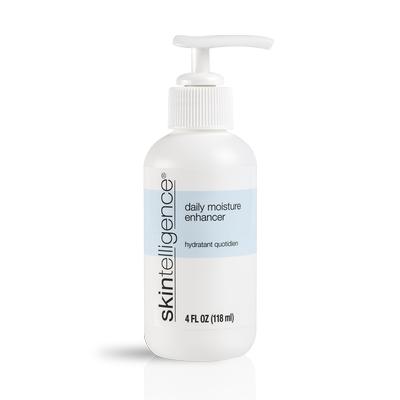 Skintelligence Daily Moisture Enhancer is a unique emulsion formula that protects and re-moisturises the inner tissues to give your skin a smooth, firm and youthful appearance. The formula ...
$33.25 AUD
$35.00 AUD
$0.64 AUD
Single Bottle (120 mL / 4 fl. oz.)
---
sku: 71295
FEATURED RECOMMENDATIONS
Details
---
Skintelligence Daily Moisture Enhancer is a unique emulsion formula that protects and re-moisturises the inner tissues to give your skin a smooth, firm and youthful appearance. The formula is a non-oily, naturally fragrant, pH balanced and may be applied under makeup.
Benefits
---
Carries five times its weight in water to "super-hydrate" the cells
Plumps up skin cells and eliminates the appearance of fine lines
Contains the most effective moisturiser available anywhere
Contains special European (Iniferine) antioxidants to combat the effects of free radicals
Protects the skin from the environment and stress, which are two main causes of premature aging of the skin
Works great under makeup
Ingredients
---
Iniferine (Antioxidants)
A group of vitamins, minerals and enzymes that help protect our bodies from the formation of free radicals. The way in which free radicals are normally kept in check is by the action of free radical scavengers (antioxidants) that are normally manufactured by our bodies in the form of enzymes and low molecular weight sulfhydryl compounds, which perform this vital function. Iniferine is imported from France and considered one of the most effective blends of antioxidants formulated exclusively for use in skincare products.
Vitamins A & D
Antioxidant, fat-soluble nutrients; promote the normal growth and repair of healthy skin tissue.
NaPCA (lactic acid)
Highly water-absorbing and at high humidity dissolves in its own water of hydration. Application of this compound to the skin as a humectant increases skin softness.
Hydrolyzed Mucopolysaccharides
A complex of proteins and amino acids derived from the hydrolysis of plant extracts - the essential constituents of every living cell. Moisturizes and lubricates the skin by acting like tiny "blotters" which bind moisture to cells. The absence of these lubricating moisturi s ers can accelerate the deterioration of skin's collagen, resulting in the loss of elasticity, flexibility and texture.
Allantoin
Nitrogen-containing organic compound found in many plants. Has the ability to promote normal healing and the normal growth of healthy tissue.
Bee Pollen
A fine, powder-like material produced by the anthers of flowering plants and gathered by bees. Bee pollen contains the B-complex vitamins, vitamin C, amino acids, polyunsaturated fatty acids, enzymes and other proteins (10-35 percent by weight), carotenoids, calcium, copper, iron, magnesium, potassium, manganese, and sodium. Bee pollen promotes normal healing and is an excellent source of nourishment for the skin cells.
Bladderwrack Extract
Made from seaweed. Has skin softening properties and promotes blood circulation.
Ginseng Extract
Made from the root of the panax ginseng plant and possesses skin-soothing properties.
Goldenseal Extract
Made from the root of goldenseal plant. Enhances the potency of other herbs.
Horsetail Extract
Made from the stems of the plants and promotes normal skin healing.
Aloe Vera
The fresh juice of the aloe plant acts as a skin softening agent when used in skin creams and cosmetics.
Reviews
---
Displaying reviews 1 - 5 of 52
---
10/9/2019
by Daniel & HelenG
This is a great product that I use every day. With washing my hands often, I apply Skintelligence regularly and love it.
---
My skin used to be dry and ashy. I use this product as part of my morning and evening routine and I am very happy with the results. Now my skin looks glowing and healthy. Thank you for another great product Market America.
---
Am beginning to like it, so i reordered....
---
Have been searching for a good moisturizer for the longest. I've finally found one that is light enough for all day wear, does the job and very light weight.
---
Love the hydration from this product
I love how much hydration I get from this moisturiser without it feeling too heavy. I use it everyday - morning and night, feels great.