VitaShield® OPC-3® Triple Serum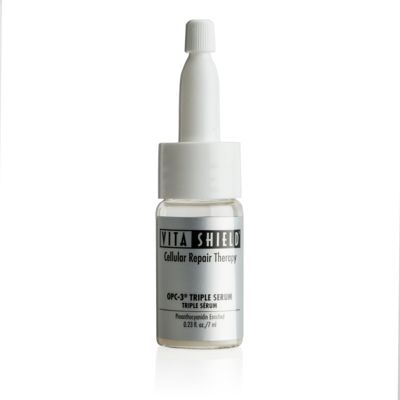 Our skin is under constant attack from environmental factors and, as we age, the protective systems of our body become overworked and begin to break down. Fight back ...
$133.00 AUD
$140.00 AUD
$2.55 AUD
4 Bottles (0.23 fl. oz./7 mL each)
---
sku: 71252
FEATURED RECOMMENDATIONS
Details
---
Our skin is under constant attack from environmental factors and, as we age, the protective systems of our body become overworked and begin to break down. Fight back with VitaShield OPC-3 Triple Serum to help slow down the ageing process.
OPCs are powerful extracts, rich in bioflavonoids found in grape seed, pine bark and red wine. These extracts contain a high content of polyphenols and are effective in neutralising free radicals. These extracts promote healthy collagen for firm skin and support the elasticity of skin. Other ingredients in VitaShield OPC-3 Triple Serum, such as vitamins C and E, hyaluronic acid and beta-glucan extract, promote the production of collagen and moisturise the skin for optimal skin health.
This revolutionary formula utilises a unique delivery system called Lipoplex™, created exclusively for use in VitaShield OPC-3 Triple Serum. The Lipoplex™ system uses unique nutrient carriers known as liposomes that are large enough to carry the OPC-3 Triple Serum nutrients, yet small enough to penetrate the epidermal and dermal layers of the skin. Lipoplex delivers nutrients and antioxidants, using a prolonged and controlled time release for maximum absorption and benefit. More importantly, it extends product efficacy while reducing skin irritation. The vitamin C in VitaShield OPC-3 Triple Serum is not mixed with the formula during manufacturing due to vitamin C's naturally unstable composition. Instead, the vitamin C is mixed in directly before using the product. This ensures that the vitamin C will not oxidise before being used and the customer will receive full benefits from VitaShield OPC-3 Triple Serum.
VitaShield OPC-3 Triple Serum is designed to work in conjunction with the other VitaShield products and should be applied daily. VitaShield products can also be used separately with wonderful results.
Benefits
---
Protects against the effects of free radicals
Provides strong antioxidant protection
Helps maintain youthful-looking skin
Helps reduce the appearance of wrinkles
Promotes healthy skin elasticity and firmness
Promotes radiant-looking skin
Refines skin tone
Moisturises the skin
Ingredients
---
Grape Seed (Proanthocyanidins)
Grape seed is an antioxidant that promotes healthy skin.
Pine Bark
Pine bark is an antioxidant that helps soothe skin, promotes capillary health and supports skin elasticity. Pine bark can help support circulation and help protect collagen and elastin.
Red Wine
Red wine is a powerful antioxidant that can help protect against free radicals.
Green Tea
Green tea has protective effects against free radicals.
Gingko Biloba
Gingko biloba is an antioxidant. Gingko biloba supports healthy collagen to reduce the appearance of fine lines and wrinkles.
Vitamin C
Vitamin C supports the synthesis and protection of collagen, the support structure of the skin. Vitamin C is a powerful antioxidant that protects against the effects of free radicals on the skin's elastin and collagen, and diminishes the appearance of dark circles caused by excess stress, pollution and fatigue.
Beta-Glucan Extracts
Beta-glucan extracts help hydrate the skin, and supports firmness, skin colour and elasticity, while also helping to reduce the appearance of fine lines and wrinkles.
Vitamin E (Tocotrienols)
Vitamin E is a powerful antioxidant for protection against free radicals. Vitamin E moisturises and soothes the skin.
Sodium Hyaluronate (Hyaluronic Acid)
Hyaluronic acid provides superior, long-term moisturisation. Hyaluronic acid is a component in cartilage that attracts and retains hundreds of times its own weight in water.
FAQ
---
What is the purpose of the VitaShield® OPC-3® Triple Serum?
VitaShield OPC-3 Triple Serum is an advanced antioxidant shield that protects the skin from free radicals. Its patent-pending Lipoplex ™ delivery system allows its beneficial ingredients to penetrate into the dermis where they provide maximum protection and benefit.
Why isn't the vitamin C mixed with the other ingredients when it is manufactured?
Vitamin C (ascorbic acid) is very unstable and begins to oxidise shortly after it comes into contact with the aqueous solution. If the vitamin C was mixed with the other ingredients during manufacturing, by the time the customer received it, the oxidation process would have eliminated all of its benefits.
How much vitamin C is in the VitaShield OPC-3 Triple Serum?
Each capsule contains approximately 210 mg of 100 percent pure vitamin C. This equates to three percent of the total formula.
How do I use VitaShield OPC-3 Triple Serum?
To ensure proper application follow the steps below: 1. Remove the silver neck band. 2. Place vial on a hard surface (not on glass), or hold firmly in your hand. Press down firmly on the activator cap (the white piston valve on top of vial) to release the vitamin C into the vial. The piston can also be pushed down using the thumb.
Note: The piston should be depressed completely.
3. Tap the top of the vial to assure that all of the vitamin C has dispersed into the vial.

4. Shake the vial vigorously for about one minute to mix the pure vitamin C with the emulsion.

5. Remove the plastic inner cap.

6. Replace inner cap with the white applicator tip.

7. Your 10-12 day treatment is ready for use. Using the flexible tip of the white applicator cap, squeeze a few drops onto your fingers. Massage into skin on face and neck until completely absorbed. Avoid the areas around the eyes to ensure there is no irritation.
When do you recommend using VitaShield OPC-3 Triple Serum?
VitaShield OPC-3 Triple Serum should be applied in the morning after cleansing and toning. Apply several drops to your fingertips and spread over facial area. Follow with VitaShield Vitamin C & E Moisturiser and VitaShield Vitamin C Intensive Treatment.
Use VitaShield OPC-3 Triple Serum every day. On days where you have prolonged exposure to the sun, use morning and evening.

Why must I use this product within 10-12 days after it has been activated?
Vitamin C remains fully active for about 12 days after it comes in contact with an aqueous solution. VitaShield OPC-3 Triple Serum is in an emulsion which contains water. Each vial contains sufficient product to last 10-12 days. More importantly, you should use this product every day for maximum free radical protection.

Aside from the free-radical protection provided by VitaShield OPC-3 Triple Serum, what other benefits are there in using this product?
VitaShield OPC-3 Triple Serum provides other significant benefits in addition to the free radical protection from its state of the art antioxidant ingredients. A patented beta-glucan extract acts as a natural mechanism for supporting normal activity of the Langerhans cells which exist in the upper layer of skin. Langerhans cells are responsible for free-radical elimination, collagen synthesis, elastin synthesis and cell turnover. This promotes healthy, new cell growth for smooth radiant-looking skin, thus reducing the appearance of wrinkles.
Why should I use antioxidants topically?
Antioxidants are effective in fighting the effects of free radicals, but when taken orally, antioxidants encounter the natural oxidation process that occurs in the body when free oxygen molecules interact with body tissue and other materials in the body. This process can prevent the benefits of oral antioxidants before they are able to reach the skin. Applying antioxidants topically ensures that the skin is protected from harmful free radicals.
Reviews
---
Displaying reviews 1 - 5 of 12
---
Help my skin tight up and smooth like baby skin
Again, people can't guess my age anymore!
They said I am looking younger than my age!
---
When I notice my skin is dulling and needs a bit of a lift, this is my go-to. It seems to help with a wide variety of issues. I use it before all my big events.
---
I was suffering from so many acne scars and they would stay on my face for months before they started to fade away. In the first week of using this most of my scars disappeared or are barely there. My skin feels so smooth, refreshed and clear.
---
This OPC-3 Serum is amazing! I have been have trouble with acne lately and this helped reduce the acne. It also healed acne scars faster, noticed the scars getting lighter. I also had some wrinkles around the corner of my right eye and that got reduced too. I feel my face getting smoother and firmer as I use this product!
---
This VitaShield Triple serum has helped to erase facial scarring that i thought to be permanent, (they were 27 years old!) It miraculously smooths ths scars out and lightens them in shade!